I was born in Lindholm in 1941.
I have always told friends and colleges that I would be painting, when I would retire. It happened in the year 2001. And I have been painting in the past years, too.
I was also invited to the lunch at Kamma's place that day in November 1999, where the suggestion about copying the Bayeux tapestry came about. I was therefore participating, when we embroidered the first stiches on the Danish copy of the Bayeux Tapestry on January 4th 2001.
We were completely unexperienced regarding to Bayeux stiches. Very quickly we found out, that we had to embroider the outline stiches at first. I learned it when embroidering a dog in one of the first scenes on the tapestry and when I made the first tree.
That is regarding to the technics. Then there is the good fellowship. We have had many hours in happy togetherness when embroidering in Viking markets, Museums, Castles and Old Manors during the years and when we have been at parties and traveling.
Our very first trip went to Bayeux (F) in 2004 of course. Next trip went to York (GB) in 2006 stayed in London and went by train to Reading and in 2011 we went to Gotland(S).
My interests are: The History of Viking Age, handicrafts and needlework and
Art: Painting, watercolor and photo. Homepage: www.annysvendsen.dk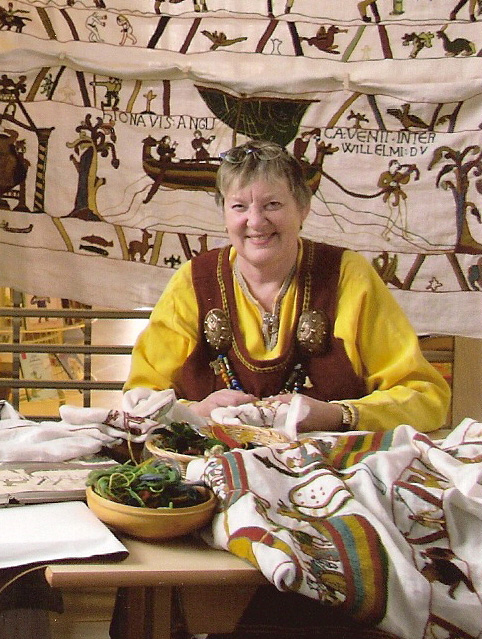 www. bayeuxtapetet.dk – The Bayeuxgroup – Copyright 2012 ©