Gitte Pedersen , born 1957 in Filholm, Vendsyssel, Denmark.
Retired nurse with all crafts as hobby.
I was introduced to the Bayeux Tapestry group in 2004 at a history lesson at the VUC.
Birgit was my neighbour, and she really got me interested in the project.
I was allowed to join the Bayeux group at the group's 5th birthday. First I had to embroider the small objects, after a while I started on bigger objects.
It is very exciting to be a part of the Bayeux group and to tell others about the project, the history behind the Tapestry and tell about the Bayeux Tapestry at schools, institutions and associations.
Everywhere we go with the Bayeux Tapestry, we meet great interest.
It has been many enjoyable hours with the other embroiders, and a great joy to see the Bayeux Tapestry displayed at Børglum Kloster.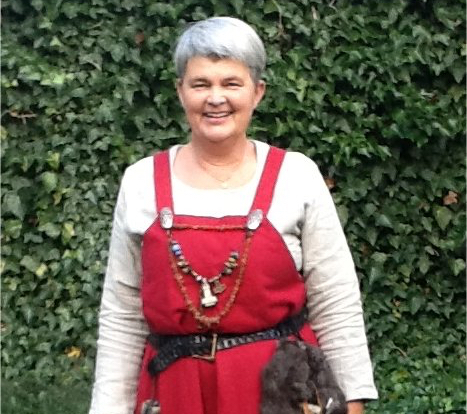 www. bayeuxtapetet.dk – Bayeuxgruppen – Copyright 2012 ©