To the press about the Bayeux wallpaper!
Come and see when the embroiderers sew the last stitches on the Danish copy of the Bayeux wallpaper.
Now the embroiderers sew the last stitches on the Danish copy of the 70 m long Bayeux wallpaper, which deals with the Battle of Hastings in 1066. The completion of the 70 m has taken 14 ½ years.
The last stitches are sewn on the Viking market at Lindholm High on Saturday 28 June and Sunday 29 June 2014.
At the same time, the embroiderers sew on a new piece of three meters. This piece is made out as the embroiderers bid on what the missing piece of the Bayeux wallpaper might have looked like.
Come and hear the embroiderers tell about the considerations and watch the embroiderers sew on the new piece that is completely drawn up.
About the Danish copy:
The sewing started on January 4, 2000 at. 19 in the millennium year and have been going on weekly embroidery evenings ever since. In addition, we have presented the rug and sewn at the annual Viking market, organized by the Viking group Lindholm Høje, which has also paid for the "wallpaper".
At countless events at schools, colleges, seminars, associations and at castles and manor houses, most recently at Frederiksborg Castle in Hillerød, the embroiderers have shown stitches, stitched and told about the carpet's exciting history.
We have applied for funds and are ready to set up an exhibition at Børglum Kloster in the spring of 2015.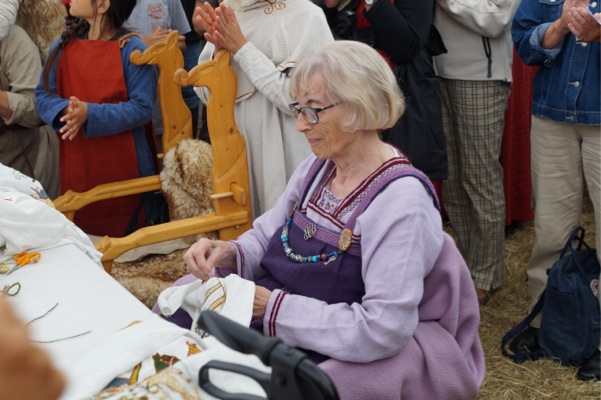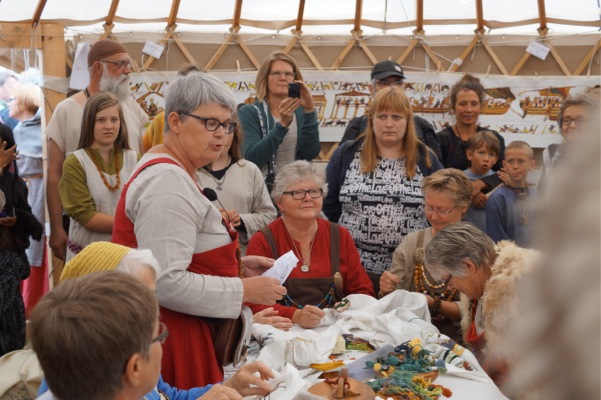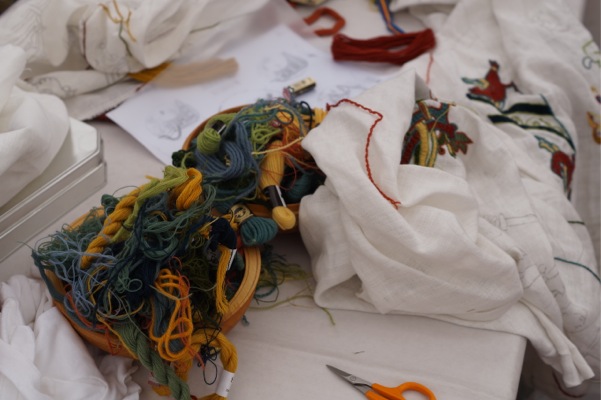 www. bayeuxtapetet.dk – The Bayeuxgroup – Copyright 2012 ©